You've probably heard the mantra, "You should be using content marketing if you want to be successful."
So where do face to face events fit within the content marketing strategy?
Report Identifies Events As Important
According to a study by MarketingProfs and Junta42, in partnership with the Business Marketing Association (BMA) and American Business Media (ABM):
9 in 10 organizations market with content, regardless of their size or industry.
The majority of those B2B marketers (62%) use the face to face event as an important tactic in their content marketing strategy. As comparison, only 11% use virtual conferences and 42% use Webinars for their content marketing.
Note: I missed this report when it was first released. Special thanks to C.C. Chapman for sharing this information during his recent Social Media Club Dallas presentation.
Defining Content Marketing
What is content marketing?
According to Wikipedia, "Content marketing is an umbrella term encompassing all marketing formats that involve the creation or sharing of content for the purpose of engaging current and potential consumer bases."
Joe Pulizzi, one of the leading content marketing strategists, says that content marketing involves:
Content – the creation of great story form content in any channel
Marketing – the act of buying or selling in a market
Pulizzi identifies five components of content marketing
Editorial-based – educational, entertaining, informative, relevant, valuable story
Marketing-backed – underlying marketing and sales objectives
Behavior-driven – seeks to drive specific behavior
Multi-platform – print, digital, audio, video, events
Targeted – towards a specific audience
Events Third Most Popular B2B Tactic
Take a look at this graphic from the MarketingProfs and Junta42 report.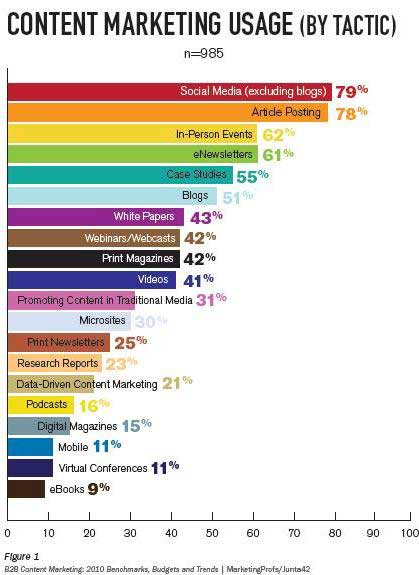 Face to face events are listed as the third most popular tactic among B2B content marketers.
On average B2B marketers use eight different content marketing tactics to achieve their goals. The most popular tactics among the 90% of B2B marketers using content marketing to grow their businesses are:
1. Social media (excluding blogs) – 79%
2. Articles – 78%
3. Face to face events – 62%
4. e-newsletters – 61%
Respondents in the healthcare industry favor in-person events (83%) above all other content marketing tactics even though they operate in a highly government-regulated environment.
Face To Face Events Rated Most Effective
The report identifies how B2B marketers rate the effectiveness of content marketing tactics.
72% of B2B marketers rated events as the top most effective tactic.
The face to face event had the highest level of alignment between adoption and effectiveness.
While 62% used face to face events as a content vehicle, 72% found this strategy effective.
79% have adopted social media tactics (except blogs) and only 31% believe that social media is effective. 46% believe posting articles is an effective tactic. 56% believe webinars are effective.
Executives clearly lack confidence in some of the content marketing strategies and overwhelmingly see events as effective for marketing.
Content Is King
While events were rated the most effective for content marketing, clearly the content of the event is critical.
In my view, an event's content is king. Attendee engagement is queen. And sharing that event experience and content with others is prince. Your event needs all three to rule the kingdom.
What makes for a successful and engaging event content marketing strategy? What are the attributes of event content that earn the attention of your attendees?